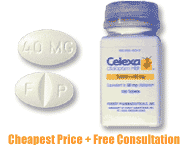 CelexaŽ (citalopram) is used to treat depression by helping to restore the balance of certain natural chemicals in the brain. CelexaŽ has been prescribed for over a decade to help patients find relief from depression--if you are suffering from depression, CelexaŽ may be able to help you, too.
CelexaŽ
Important Note
The following information is intended to supplement, not substitute for, the expertise and judgment of your physician, pharmacist or other healthcare professional. It should not be construed to indicate that use of the drug is safe, appropriate, or effective for you. Consult your healthcare professional before using this drug.
Uses
Citalopram is used to treat depression. This medication works by helping to restore the balance of certain natural chemicals in the brain.
Other Uses
This medication has also been used to treat certain eating disorders (e.g., anorexia nervosa, bulimia).
How to Use
Take this medication by mouth usually once daily, with or without food; or as directed by your doctor. The dosage is based on your medical condition and response to therapy. It is important to continue taking this medication as prescribed even if you feel well. Also, do not stop taking this medication without consulting your doctor. It may take up to several weeks before the full benefit of this drug takes effect.
Side Effects
Nausea, drowsiness, diarrhea, trouble sleeping, upset stomach, or dry mouth may occur. If any of these effects persist or worsen, notify your doctor promptly. Tell your doctor immediately if any of these serious side effects occur: vomiting, loss of appetite, unusual or severe mental/mood changes, increased sweating/flushing, unusual fatigue, uncontrolled movements (tremor). Tell your doctor immediately if any of these unlikely but serious side effects occur: blurred vision, stomach pain, fever, joint pain, muscle pain, unusually fast heartbeat, decreased interest in sex, changes in sexual ability, change in amount of urine. Tell your doctor immediately if any of these highly unlikelybut very serious side effects occur: weight changes, taste changes, changes in menstrual period, unusual swelling of the hands/feet/face, seizures, painful and/or prolonged erection. If you notice other effects not listed above, contact your doctor or pharmacist.
Precautions
Tell your doctor your medical history, especially of: liver problems, kidney problems, seizures, heart problems, other mental/mood disorders (e.g., bipolar disorder), thyroid problems, any allergies. This drug may make you dizzy or drowsy; use caution engaging in activities requiring alertness such as driving or using machinery. Limit alcoholic beverages. Caution is advised when using this product in the elderly because they may be more sensitive to the effects of the drug. This medication should be used only when clearly needed during pregnancy. Discuss the risks and benefits with your doctor. This drug passes into breast milk. Because of the potential risk to the infant, breast-feeding while using this drug is not recommended. Consult your doctor before breast-feeding.
Drug Interactions
Certain medications taken with this product could result in serious, even fatal, drug interactions. Avoid taking MAO inhibitors (e.g., furazolidone, isocarboxazid, linezolid, moclobemide, phenelzine, procarbazine, selegiline, tranylcypromine) within 2 weeks before or after treatment with this medication. Consult your doctor or pharmacist for additional information. This drug is not recommended for use with: weight loss drugs (e.g., sibutramine, phentermine). Ask your doctor or pharmacist for more details. Tell your doctor of all prescription and nonprescription medication you may use, especially: other SSRI antidepressants (e.g., fluoxetine, sertraline), nefazodone, trazodone, tramadol, venlafaxine, "triptan" migraine drugs (e.g., sumatriptan, zolmitriptan), tricyclic antidepressants (e.g., amitriptyline, nortriptyline), cimetidine, lithium, itraconazole, macrolide antibiotics (e.g., clarithromycin, erythromycin), any herbal/ natural products (e.g., melatonin, St John's wort, ayahuasca). Tell your doctor if you take any drugs that cause drowsiness such as: medicine for sleep, sedatives, tranquilizers, anti- anxiety drugs (e.g., diazepam), narcotic pain relievers (e.g., codeine), psychiatric medicines (e.g., phenothiazines such as chlorpromazine), anti-seizure drugs (e.g., carbamazepine), muscle relaxants, certain antihistamines (e.g., diphenhydramine). Do not start or stop any medicine without doctor or pharmacist approval.
Overdose
If overdose is suspected, contact your local poison control center or emergency room immediately. Symptoms of overdose may include: irregular heartbeat, fainting, severe dizziness or lightheadedness.
Notes
Do not share this medication with others. Laboratory and/or medical tests may be performed to monitor your progress.
Missed Dose
If you miss a dose, use it as soon as you remember. If it is near the time of the next dose, skip the missed dose and resume your usual dosing schedule. Do not double the dose to catch up.
Storage
Store at room temperature between 59 and 86 degrees F (15 and 30 degrees C) away from light and moisture.