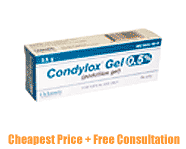 Condylox
Condylox is a the first ever FDA approved gel that treats genital warts. The active ingredients in Condylox get right to the problem and start treating your genital warts immediately.
Condylox® (Oclassen)
(Treatment of Anogenital Warts)
What is this Drug Used For?
Condylox® Gel 0.5% or Solution 0.5% is indicated for the topical treatment of anogenital warts (external genital warts and perianal warts).

Who Should Not Take This Drug?

Anyone who is pregnant or breastfeeding should speak to their physician before taking the medication
Patients with genital warts in mucous membranes (urethra, vagina, and rectum)
Children
Anyone allergic to Podofilox
How Do I Use My Condylox®?
Use it exactly as the doctor prescribed it. Condylox is to be applied twice each day for 3 consecutive days, followed by 4 days without treatment. It is recommended that no more than 10 cm of wart tissue and no more than 0.5 ml of the solution should be used in a day. This cycle is repeated at weekly intervals for a maximum of 4 weeks.
What Are The Possible Side Effects Of Condylox®?
The most common side effects include inflammation, burning, pain, itching or bleeding. Talk with your doctor or pharmacist if any of these occur and become uncomfortable or intolerable.
Other Important Information

Notify your doctor or pharmacist if you have difficulty breathing, closing of your throat, swelling of your lips, swelling of your tongue, swelling of your face, rash, an irregular heartbeat, or seizures.
Only use this product externally
Store CONDYLOX® at room temperature away from moisture.
If you miss a dose, take it when you realize it. If it's almost time for the next dose, skip the missed dose. Do not take a double dose to catch up.
Do not give your medication to others. Keep away from children and throw away any unused drug after the expiration date.
Wash hands before and after application of medication.