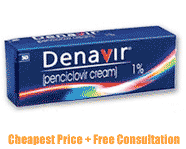 This medicine is an antiviral used to treat cold sores.
Denavir
Before using
INFORM YOUR DOCTOR OR PHARMACIST of all prescription and over-the-counter medicine that you are taking. Inform your doctor of any other medical conditions, allergies, pregnancy, or breast-feeding.
Directions
Follow the directions for using this medicine provided by your doctor. THIS MEDICINE IS MOST EFFECTIVE WHEN applied at the earliest sign of tingling or swelling. To apply this medicine, gently rub the medicine in until it is evenly distributed. Wash your hands immediately after using this medicine. STORE THIS MEDICINE at room temperature, away from heat and light. Keep the container tightly closed. TO CLEAR UP YOUR INFECTION COMPLETELY, continue using this medicine on the recommended schedule unless otherwise directed by your doctor. Do not miss any doses. IF YOU MISS A DOSE OF THIS MEDICINE, use it as soon as possible. If it is almost time for your next dose, skip the missed dose and go back to your regular dosing schedule.
Cautions
Avoid getting this medicine in your eyes. If your symptoms do not improve or if they become worse, check with your doctor. FOR WOMEN: IT IS UNKNOWN IF THIS MEDICINE IS EXCRETED in breast milk. DO NOT BREAST-FEED while taking this medicine.
Possible side effects
SIDE EFFECTS, that may go away during treatment, include burning or itching. If they continue or are bothersome, check with your doctor. If you notice other effects not listed above, contact your doctor, nurse, or pharmacist.
Drug interactions
Drug interactions can result in unwanted side effects or prevent a medicine from doing its job. Use our drug interaction checker to find out if your medicines interact with each other. Check drug interactions
If you take too much
If overdose is suspected, contact your local poison control center or emergency room immediately. This medicine may be harmful if swallowed.
Additional information
DO NOT SHARE THIS MEDICINE with others for whom it was not prescribed. DO NOT USE THIS MEDICINE for other health conditions. KEEP THIS MEDICINE out of the reach of children. IF USING THIS MEDICINE FOR AN EXTENDED PERIOD OF TIME, obtain refills before your supply runs out.