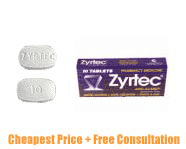 ZyrtecŪ is an antihistamine (cetirizine) that helps to relieve your allergy symptoms by blocking the effects of histamines. In a recent survey, 4 out of 5 users were satisfied with the effects of ZyrtecŪ in treating their allergy symptoms.
ZyrtecŪ
Important Note
The following information is intended to supplement, not substitute for, the expertise and judgment of your physician, pharmacist or other healthcare professional. It should not be construed to indicate that use of the drug is safe, appropriate, or effective for you. Consult your healthcare professional before using this drug.
Uses
This medication is an antihistamine which provides relief of allergy symptoms such as watery eyes, runny nose, itching eyes, sneezing, itching and hives.
How to Use
Take this medication by mouth once a day as directed. May be taken with or without food. Do not increase your dose or take this more often than directed.
Side Effects
Drowsiness, sleepiness, dry mouth, fatigue, dizziness, increased appetite, and nausea may occur. These effects should subside as your body adjusts to the medication. If they continue or become bothersome, inform your doctor. Notify your doctor if you develop any of these serious effects while taking this medication: chest pain, rash, trouble breathing. This medication may cause dizziness or drowsiness. Use caution engaging in activities requiring alertness. If you notice other effects not listed above, contact your doctor or pharmacist.
Precautions
Tell your doctor your medical history, especially of: liver or kidney disease, asthma, any blood disorders, any any allergies. This medication can increase sensitivity to sunlight. Avoid prolonged sun exposure. Wear protective clothing and a sunscreen when outdoors. Limit intake of alcohol to prevent excessive drowsiness. Tell your doctor if you are pregnant before taking this medication. This medication is excreted into human breast milk. Discuss the risks of breast-feeding with your doctor.
Drug Interactions
Tell your doctor of any over-the-counter and prescription medication you may take including: sedatives, tranquilizers, narcotic pain relievers, sleep medicine, drugs for anxiety, barbiturates (e.g., phenobarbital), psychiatric medicines, other antihistamines. Do not start or stop any medicine without doctor or pharmacist approval.
Overdose
If overdose is suspected, contact your local poison control center or emergency room immediately. Symptoms of overdose may include sleepiness, shortness of breath, clumsiness, hallucinations, and seizures.
Notes
This medication can affect results of allergy tests. Remind your doctor you are taking this drug if you are scheduled for any tests.
Missed Dose
If you miss a dose, take it as soon as remembered; do not take it if it is near the time for the next dose, instead, skip the missed dose and resume your usual dosing schedule. Do not "double-up" the dose to catch up.
Storage
Store between 59 and 86 degrees F (15 to 30 degrees C) away from heat and light. Do not store in the bathroom.