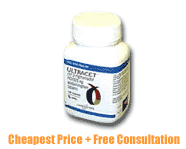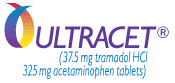 Ultracet® is used to treat moderate to severe pain for a period of five days or less. It contains two pain-relieving agents. Tramadol, known technically as an opioid analgesic, is a narcotic pain reliever. Acetaminophen is the active ingredient in the over-the-counter pain remedy Tylenol.
Ultracet®
Uses
This medicine is an analgesic combination used to treat or prevent pain for a short period of time (usually 5 days or less). Ultracet is an invaluable medicine for many patients. However it is also abused by a few patients. To control abuse of this medicine, our patients are limited to two bottles every 30 days of any of the following medications - Ultram, generic Ultram, Soma, Fioricet, Ultracet, Robaxin, Flexeril or Parafon Forte. For example, a patient who orders one bottle of Flexeril on the 1st of the month will not be able to order any of the other medicines in the above list until the 15th of the month. A patient who orders one bottle of Flexeril and one bottle of Parafon Forte on the 1st of the moth will not be able to order any of the above medications until the 1st of the next month.
Before Using
It is important that you mention all prescription and over-the-counter medicines in our medical questionnaire and any medical conditions you may have including allergies, pregnancy, or breast-feeding. DO NOT TAKE THIS MEDICINE if you are also taking carbamazepine, cyclobenzaprine, an amphetamine, opiate analgesic, tricyclic antidepressant, serotonin reuptake inhibitor (SSRI), monoamine oxidase inhibitor (MAOI), promethazine, or medicine for appetite suppression, sleep, or a nervous, mood, or behavior condition. ADDITIONAL MONITORING OF YOUR DOSE OR CONDITIONS may be needed if you are taking isoniazid, guanidine, or an oral anticoagulant. USE OF THIS MEDICINE IS NOT RECOMMENDED if you have liver disease or high levels of alcohol, depressants, stimulants, or other analgesics in your blood.
Directions
THIS MEDICINE MAY BE TAKEN on an empty stomach or with food. Side effects you may experience while taking this medicine include drowsiness, dizziness, and constipation. CHECK WITH YOUR DOCTOR AS SOON AS POSSIBLE IF you develop a skin rash, itching, confusion, changes in mood or behavior, hallucinations, dark urine or pale stools, yellowing of the skin or eyes, or unusual tiredness. CONTACT YOUR DOCTOR IMMEDIATELY IF you experience seizures, difficulty breathing or swallowing, or swelling of face or mouth. Store this medicine at room temperature in a tightly-closed container away from heat and light. IF YOU MISS A DOSE OF THIS MEDICINE and you are taking it regularly, take it as soon as you remember. If it is almost time for your next dose, skip the missed dose and go back to your regular dosing schedule. DO NOT TAKE TWO DOSES AT ONCE. If your symptoms do not improve or become worse, check with your doctor.
Cautions
DO NOT TAKE THIS MEDICINE IF YOU HAVE HAD A SEVERE ALLERGIC REACTION to codeine, hydrocodone, dihydrocodeine, oxycodone (such as Tylox, Tylenol with Codeine, Vicodin). A severe allergic reaction includes a severe rash, hives, breathing difficulties, or dizziness. IF YOU EXPERIENCE difficulty breathing, tightness of chest, swelling of eyelids, face, or lips, or if you develop a rash or hives, tell your doctor immediately. Do not take any more doses of this medicine unless your doctor tells you to do so. DO NOT EXCEED THE RECOMMENDED DOSE or take this medicine for longer than prescribed. THIS MEDICINE MAY BE HABIT FORMING. Use caution driving or operating machinery. DO NOT DRINK ALCOHOL while taking this medicine. DO NOT TAKE other products containing acetaminophen (check labels closely) while you are taking this medicine. IF DIZZINESS OCCURS, sit or stand up slowly. BEFORE YOU HAVE ANY MEDICAL OR DENTAL TREATMENTS, EMERGENCY CARE, OR SURGERY, tell the doctor that you are taking this medicine. IF YOU EXPERIENCE WITHDRAWAL SYMPTOMS (nervousness, sweating, nausea, diarrhea, tremor, trouble sleeping), check with your doctor . FOR WOMEN: Discuss with your doctor is you are planning on getting pregnant. THIS MEDICINE IS EXCRETED IN BREAST MILK. DO NOT BREAST-FEED while taking this medicine.
Overdose
If overdose is suspected, contact your local poison control center or emergency room immediately. Symptoms of overdose may include nausea, vomiting, sweating, unusual drowsiness, slowed breathing, seizures, stomach pain, dark urine, deep sleep or loss of consciousness, coma and death.